How to check your car service history
3 ways to get your car service history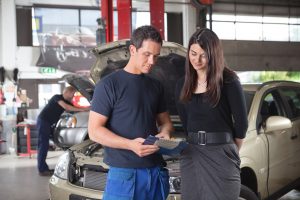 Auto Solutions East Ltd's guide to help our customers get an up to date car service history
One of the most important parts of having a car is maintaining it and keeping it running to a good standard. A big part of successfully keeping your car running is… paperwork. Yes, you read that correctly – this paperwork is also referred to your car service history. A service history details all the previous work carried out on a car, as well as any additional things that need to be carried out on the car. It's important to keep this information up to date as it can help you in the future and add value to your car.
When conducting your service at our garage in East Kilbride, we'll always check your car's service history as well as making sure we stamp your handbook to keep you up to date! If you don't have your car's service history at the moment you don't have to worry as you can easily build it from scratch or fill in the gaps. Our team at Auto Solutions East Ltd have put together a guide to show you different ways you can find your car's service history.
1. Talk to your garage
If you've lost your car service history or misplaced it you can easily retrieve it by phoning up the garage who services your car. They will ask you a few questions about you and your vehicle so you can provide them with some details. After that, they'll send you your service history.
If you're trying to fill in gaps about your car service history before you owned it, you'll have to get in touch with the car vendor. They can then put you in touch with the garage who previously serviced your car.
2. Keep a paper trail
The traditional way of keeping your car's service history is in a vehicle service book, which usually lives in a car's glove box. Every time a car is serviced this book should receive a stamp from the garage who completed the work. The stamp will detail the car's mileage, the date, the type of service that was performed and detail information about the garage.
If you want to keep an additional paper trail you can keep the invoices from the garage after every service and MOT.
3. You can find additional information online
You can find your service history online via the gov.uk website, their records date back to 2005. You might also be in a situation where you can purchase a car cheaply because it doesn't have service history or you already own a car that doesn't have a complete service history. But all is not lost as you can now trace your car's previous owner. All you have to do is download a V888 form from the DVLA website and pay a small fee of £2.50
You then have to contact the previous owners and see if they have your car's previous service record or remember where and when the car was serviced.
So there you have it, a three-step guide to getting your car's full service history. Having the full car service history is important as it shows due diligence of looking after your car properly. A car without a full service history can decrease in value by up to 20%. The average price of a used car in Britain is £8,000 and without a service history, that price can be knocked down by up to £1,600.
If you have any problems with your car's service history or you're unsure about where to look in your handbook, contact us at Auto Solutions East Ltd and we'll help you with any issues you might be facing relating to your car. You can book online or check our service schedules by using our booking tool on our website. We offer full, interim and major car servicing for customers in East Kilbride, Glasgow and surrounding areas, tailored to your car and it's mileage.