Motorist Winter Checklist
Autosolutions E K, East Kilbride: Our Must-Read Winter Drivers' Guide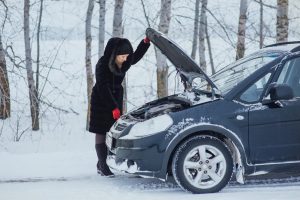 Give your car a health check with our car winter checklist!
Now that winter is on the horizon, it's critical that you prepare your car for the colder months. As many as 20% of drivers fail to make any checks, at all, in other months, and even in winter only half of these drivers undertake basic checks. With the trickiest of driving conditions presented over what are wet, windy, cold and often icy days and nights, now is the time to understand what checks you should be regularly making over winter.
Here's our Auto Solutions East Ltd Car Winter Checklist
Put together your emergency car kit
Even the newest of cars can break down and during winter, when temperatures can regularly drop to -10C, preparing an emergency kit for your car can be a literal matter of life and death. Here's what you should always carry in your car:
A stocked-up first aid kit (in addition to meds that you may take)
Jump leads in case your battery goes dead
A warm blanket
A charger to charge your phone
A torch, as well as a pack of batteries in case they're needed
A warning sign that can be placed behind your car in the case of a breakdown
An ice scraper
Food and drink that will last the season
The Five Essential Checks in our Car Winter Checklist
Check the tread and air pressure of your tyres
Your tyres are likely to have the toughest job of all in winter – so it's critical that you ensure both your tread and air pressure are correct. The tread should measure a minimum of 3mm, whilst the air pressure will differ from car to car (check online for your model's correct air pressure). Don't forget to check your spare tyre either.
Check your windscreen wipers
Poorly maintained wipers can result in smudges and smears that could, in the worst instances, lead to a crash. Ensure that you regularly check your wipers for sign of wear and tear (such as splits and cracks). If your wipers are leaving a film over your windscreen, then simply wipe them down with a damp cloth to see whether the situation improves, if not then they may need replacing.
Thoroughly clean your windows before every journey
All snow and ice should be scraped away before you set off on your journey – you also shouldn't forget your doors, lights, mirrors, roof and bonnet. De-icer can help speed up the process, however, if you only have water to hand, ensure that it's only slightly tepid – in the coldest of temperatures, water that's even slightly too hot can result in the glass cracking (particularly where the glass may already have a slight chip).
Check your car lights (all of them)
As many as 2.6 million cars up and down the UK are currently driving with illegal lights (The RAC) – which in itself demonstrates just how many drivers fail to regularly check their lights. What's more, in the midst of winter the UK only benefits from 8 hours of light a day – which makes checking your vehicle's lighting all the more important (this includes your indicators, rear lights and the various reflective strips around your car).
You should also ensure that you're always carrying spare bulbs for each of the lights in your car.
Keep your systems' fluids are topped up
Your windscreen wipers may be in almost constant use over winter, so check your windscreen wash regularly. Your radiator fluids can also rapidly be drained under the pressure of winter conditions. Lastly you also need to remember anti-freeze – however, you should check which one is suitable for your vehicle, as not all anti-freeze products can be used in all cars.
Check your battery's up for the winter challenge
Finally, on our winter car checklist, you should check your car battery. It should always be fully charged. If you've not driven your vehicle for more than a couple of weeks, then you should leave it running to ensure your battery hasn't run flat.
The winter places much pressure on your battery – lighters, heating, electric seats and windscreen wipers, so be prepared and avoid suffering a breakdown due to a flat battery.
Need to book your car in for a service before winter? Or want a professional to check your tyre tread or air pressure? Auto Solutions E K in East Kilbride will ensure that your vehicle is ready for the tough winter months ahead. You can access our car winter checklist any time, but if you want personalised advice with regards to your car, just contact us at Auto Solutions East Ltd.